Siemens Aquaris is Australia's first truly waterproof hearing aid and allows wearers to swim, shower or get caught in the rain while wearing it.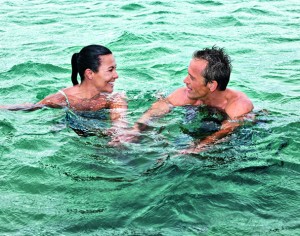 In the past, most hearing aids required wearers to avoid water and moisture because even if a little amount entered a device, it could cause damage.
The availability of this new hearing technology gives hearing impaired Australians the opportunity to hear clearly in situations that have previously been restricted.
This revolutionary waterproof hearing aid will improve the lives of thousands of Australians who are affected by hearing loss, allowing them to wear Aquaris in wet and humid conditions, which are common to much of our country.
Aquaris' housing and battery door are completely sealed to make sure no water gets in, while its unique membrane provides additional water protection.
In fact, Aquaris has the Ingress Protection Rating IP57. This means that it can be completely submerged in water up to one meter with no damage to the hearing aid.