New Innovative Technology in Hearing Aids by Siemens
Introduced this amazing hearing device designed with innovative technology as well as style, from Siemens, available to you.
Has it been difficult to hear in a crowded room, or on days when the wind is blowing? With the new Binax you can focus on the sound you w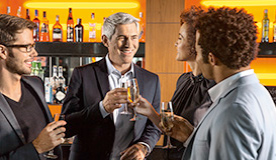 ant while minimizing background sounds. This device is remarkably efficient and offers a more natural sound. Siemens Binax hearing device is an improvement on the previous award winning Micon and Mini Tek.
Now available at Falls of Sound.
It boasts that it's even better than normal hearing. It is so small it can be hidden under your clothing and is sure popular with teenagers and anyone desiring a better hearing experience. Its wireless technology can connect your hearing aid through Bluetooth to TV's, MP3 Players, telephones and other audio sources. The sound is fed directing into your ears. Easy Tek is simple to use it transforms binaural hearings aids into a headset with clear sound. Automatically narrowing speech in the direction you need with its microphones. You can listen to the person next to you with ease. The spatial function gives you completely personalized hearing. It gives the wearer control over whom and what he listens to and it can send audio signals to both hearing aids in stereo without disturbing anyone else. It also will not interfere with spatial speech when driving a vehicle. It works with all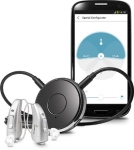 Binax hearing aids including those from, Pure and Carat. It has reliable audio streaming with minimal power consumption. Multipoint system can work with two phones at once. Easy Tek is only two inches in diameter and weighs less than an ounce. It can be worn around your neck. It is easy to use with one touch operation of a multifunctional button. You can even control tinnitus settings and sound balance. Its streaming capabilities are superior to other devices in the same category. The LED lights let you know when you should change the batteries and other important information.
With the Touch Control App you can turn any APPLE or ANDROID into a remote control hearing aid. This is an amazing invention and long awaited by health care professional and individuals with hearing loss. A remote control sound streaming in a small device. You can adjust the programs and treble and volume easily.Y ou can also adjust the direction and span of the microphones via your smartphone. When used with the Easy Tek APPs IPHONES can become a hearing control center. Easy Tek Apps, are available free at Google play and The APP Store.
Why not call us today for more information, about this new technology from Siemens hearing instruments and find out how you can purchase this amazing product. Call in Brisbane at 07/33785499 or Sunshine Coast 07/54438993.